Due to Covid-19, the Swap Shop is currently closed until further notice
The Swap Shop is only open on Saturdays, from 8:30am-12pm.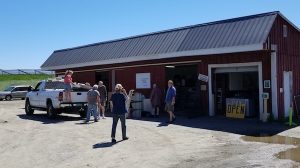 Upon arrival at the Swap Shop please see a volunteer to get your items checked in as they will determine if materials presented will be accepted.
The Swap Shop closes promptly at noon and donations will not be accepted after 11:45am.
Materials Accepted
Small appliances:  Mixers, blenders, irons, popcorn poppers, coffee makers
Cabinets, shelves, counters
Construction materials: lumber, bricks, blocks, electric wire, outlet boxes
Complete doors
(Non-upholstered only) Furniture: chairs, tables, bed frames, book cases
Gas engine equipment: lawn mowers, snowblowers, weed whackers, leaf blowers (working equipment, please!)
Household items: dishes, kitchenware, lamps, picture frames, utensils
Lawn/garden furniture and equipment
(Usable) Paints and stains (during summer months only)
Plumbing materials: sinks, pipes, fittings, hoses
Sports equipment
Tools: hand and power tools
Toys (complete and put together)
Complete windows
Unacceptable Items
These are examples of items we usually cannot accept. At times there may be additional items we cannot accept due to space or other considerations.
Items may also be placed on a marketplace such as a Facebook Marketplace,, Front Porch Forum, Craigslist or Freecycle.
Appliances: refrigerators, cook stoves, washers, dryers, air conditioners

Clothing

Computers
(Upholstered) furniture
Tires
Toilets
Guidelines
Items must be in working order.
A Swap Program Volunteer will decide if the item will be accepted.
Acceptable items may vary depending on space and other considerations.
Only Swap Program Volunteers will attend to the delivering vehicles.
Only Swap program Volunteers are to be in the office and receiving area.
Items accepted may go directly into the building for later distribution.
All items are offered without warranty of any kind.
The Swap Shop is for residential/personal use only–not commercial or resale.
Visitors are encouraged to submit new ideas and/or suggestions to Swap volunteers.
**PLEASE:  No smoking allowed in Swap Program building or immediate area**