Swap Shop's Winter Schedule
The Swap Shop is only open on the second Saturday of the month starting December 14th until Spring. The winter hours are from 9:00AM – 12noon. The WSWMD Calendar at the bottom of the page indicates the days that the Swap Shop is open and closed.
Although the Swap Shop is only open on the second Saturday of the month throughout the winter, the WSWMD Scalehouse/Transfer Station continues to be open every Saturday from 8AM until the gate closes at 1:00PM.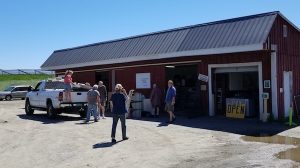 Upon arrival at the Swap Shop see a volunteer, since all items must be checked in. The Swap Program volunteers determine if materials presented will be accepted. The Swap Program is not a free dumping area, and therefore any trash or discarded items must go to the Scalehouse for disposal. A pass or sticker will be needed, and fees will apply if you are disposing of any trash.
If you have any large items or questions about items that you would like to bring to the Swap Shop, you may email them:  swapshop@windhamsolidwaste.org.
The Swap Shop closes promptly at noon, and donations will not be accepted after 11:45am.
The Mission

The WSWMD Swap Program on Old Ferry Road provides a free outlet for materials that are still usable but for which there is no traditional re-use program. People are asked to try other available outlets before bringing items to the Swap Shop.
The Swap Shop is available to everyone for personal use, and it is not to be monopolized by anyone. Therefore, any Swap Shop volunteer has the right to restrict or refuse an individual's items or their access to the facility for whatever reason. The Swap Program is not intended to be a resource for dealers or metal salvagers.
Materials Accepted
This list will be updated from time to time.
Appliances – only small household types: toaster, toaster oven, iron, blender, mixer
Cabinets, shelves, counters
Construction materials: lumber, bricks, blocks, electric wire, outlet boxes
Complete doors
(Non-upholstered only) Furniture: chairs, tables, bed frames, book cases
Gas engine equipment: lawn mowers, snowblowers
Household items: dishes, kitchen ware, lamps, frames, utensils
Lawn/garden furniture and equipment
(Usable) Paints and stains (during summer months only)
Plumbing materials: sinks, pipes, fittings, hoses
Sports equipment
Tools: hand and power tools
Toys (complete and put together)
Complete windows
Unacceptable Items
These are examples of items we usually cannot accept. At times there may be additional items we cannot accept due to space or other considerations. Items may also be placed on a marketplace such as a Facebook Marketplace, or there are several other outlets: Front Porch Forum, Craigslist or Freecycle.
Appliances: refrigerators, cook stoves, washers, dryers, air conditioners

Clothing

Computers
(Upholstered) furniture
Tires
Toilets
Guidelines
Try using other available outlets (such as thrift stores, consignment shops, freecycle, front porch forum, craigslist, and social media marketplaces) before bringing things to the Swap Program.
Items must be in working order.
A Swap Program Volunteer will decide if the item will be accepted.
Acceptable items may vary depending on space and other considerations.
You can check with a Swap Program Volunteer for acceptability before bringing an item in.
Only Swap Program Volunteers will attend to the delivering vehicles.
No idling of vehicles.
Only Swap program Volunteers are to be in the office and receiving area.
Items accepted may go directly into the building for later distribution.
All items are offered without warranty of any kind.
The Swap Shop is for residential/personal use only… not commercial or resale. 
No smoking allowed in Swap Program building or immediate area.
Visitors are encouraged to submit new ideas or suggestions to Swap Program Volunteers.