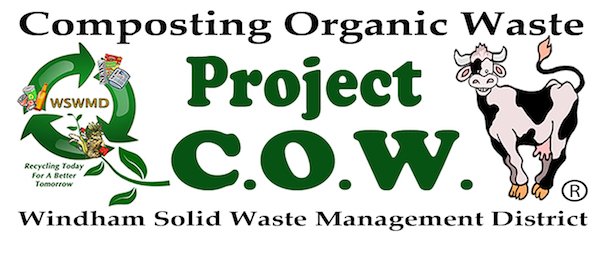 Project C.O.W. provides a way for residents, businesses
and schools to recycle food scraps and other organic materials.
Compost the following items at WSWMD:
| | |
| --- | --- |
| Food Scraps | Non-Recycable Paper & Cardboard |
| Bread/Rolls/Crackers | Used Tissues & Paper Towels |
| Rice/Pasta/Beans | Milk/Juice Cartons |
| Egg Shells | Soiled or Waxed Cardboard |
| Cheese/Dairy Products | Soiled/Damp/Wet/Waxed Paper |
| Fruits & Vegtables | Paper Plates & Cups |
| Coffee Grounds and Filters | Cardboard Egg Cartons |
| Tea Bags | Frozen Food Containers |
| Cooking Oils & Fats (solidified) | Sugar or Flour Bags (with out plastic liners) |
| Cooked or Raw Meats & Fish (including Bones) | |
Certified compostable bags and small amounts of pet waste are ok (the equivalent of 1 box of kitty litter per week).  
DO NOT COMPOST!
Plastic Bags, Plastic Wrappers, Liquids, Aluminum Foil, Plastic Utensils, Trash, Metal, Glass and Styrofoam
*Do Not recycle leaves, grass or brush in C.O.W. dumpsters.  See scalehouse attendant for further instruction on disposing of these items.
Brattlegrow Compost Is For Sale!

Brattlegrow Compost has many uses. It is ideal for creating new lawns and gardens, doing lawn repairs.
It is excellent for fertilizing/top dressing gardens, lawns and athletic fields.
Our compost has been used for erosion control and for landfill/stormwater management.
The compost is made from carefully managed residential and commercial food scraps, leaves, wood chips, and grass clippings.
WSWMD Compost Products For Sale:
3/8 inch screened compost

1/2 inch screened compost

Compost & soil mixes
For 1-10 cubic yards (and for smaller amounts) please contact these Brattlegrow Compost distributors for pricing and delivery:
Bloom Enterprises LLC, Route 30, Townshend, VT 802-380-9458, Contact Tom Bloom by phone.
Boyd Family Farm, Dover Road, Wilmington, VT 802-464-5618, Email: boydfarm@sover.net Delivery available
Brown Enterprises, 1954 Route 100, S. Londonderry, VT, Email: steve@brownenterprises.net
D & E Tree Company, Inc., Route 5, Guilford, VT, 802-257-5669, Email: detree@myfairpoint.net Blower truck & delivery available
Dutton Berry Farm, Route 30, Newfane, VT, Email: georgedutton@gmail.com
Maple Hill Nursery, Route 10, Swanzey, NH, (603) 357-2555, Email: scotmaplehill@yahoo.com Delivery available
Renaud Tree Care, Inc., Route 5, Dummerston, VT, 802-257-0567, Email: gottrees@sover.net Delivery available
Rock Ridge Farm, 2 Main Street, Northfield, MA, 413-498-5520, Contact Dave Kalinowski by phone.
For more information or to purchase 10 + cubic yards call WSWMD: (802) 257-0272, or email: office@windhamsolidwaste.org