Materials Accepted at WSWMD Transfer Station
The following table lists many of the items accepted at the WSWMD Transfer Station and their cost.
ITEMS MARKED WITH AN ASTERISK * are banned from landfill disposal – they must be brought to WSWMD and kept separate from household trash:
Item

Cost: $1.00 for every transaction plus the following fees:


Prices are subject to change without notice.

Answering Machines, Fax Machines, Internet Routers*

$5 each

Appliances* (without freon)

Appliances* (with freon)

$10 each

$15 each

Batteries — auto lead acid*

$5 each


Batteries — rechargeable, NiCad, lithium, button cell*

(Note: alkaline manganese and carbon zinc batteries can be brought to WSWMD or put in your household trash)

No charge

Batteries — larger than lantern (e.g. electric fence)*

$3 each

Ballasts with PCBs*

$6 each

Ballasts without PCBs*

$3 each

Bicycles

No charge – first choice is the reuse bike shed near the Swap Shop, second choice is the scrap metal container

Charging Cable (ie., cell phones, laptops, tablets, etc.)

Free

Christmas trees

Free seasonally – from Dec. 26 – Jan. 31


Clothing (clean and dry)

No charge–Put into the Salvation Army box

Computer*

Free for residents, charities, schools, and businesses (w/ less than 10 employees)

Computer (truck loads)*

$0.29/pound for all others who are not listed above

Construction and demolition waste

$145 per ton, pro-rated


$15 minimum charge for up to 100 lbs.


Digital converter boxes (cable, Satellite) *

$5 each

DVD players*

$5 each

Electronics/Stereo Equipment*

$5 each




Fax machines*

$5 each

Fluorescent lights*

Fluorescent tubes – first 10 are free. More than 10 – 25¢ per every two linear feet




Compact Fluorescent Light bulbs (CFL's) – Free

Food waste

Free to compost food scraps

Game consoles*

$5 each

Latex Paint, Oil Based Paints, Urethanes, Stains, Enamels

Free – 10-can limit per visit

. (Latex paint if hardened can be thrown into the trash)


Low-grade, non-recyclable paper

Free to compost: paper plates, cups, napkins, etc.

Mattresses and upholstered furniture

Twin/Full mattress or box spring – $12.50 each piece

Queen/King mattress or box spring – $20 each piece

Upholstered Chair – $15

Upholstered Sofa – $20

Sleeper Sofa – $25

Mercury containing devices*

No charge

Microwave ovens*

$10

Motor oil*

No charge

Oil filters (auto and light truck size)*

No Charge

Oil filters (heavy equipment size)*

$0.50 each




(No charge to do-it-yourself residents)

Oil Based Paints, Urethanes, Stains, Enamels*

Free – 10 gallon limit per visit

Personal digital assistants*

Free

Propane Tanks (up to 1lb.)

$1 each

Propane Tanks (1 – 20lb.)

$10 each

Refrigerators, dehumidifiers, A/C units*

$15 freon removal fee

Scrap metal*

$5/load (Subject to Change)

Swap items (see Swap Shop page for details)

No charge

Telephones

No charge

Televisions*

First seven pieces are free. More than seven pieces – free for residents, charities, schools, and businesses (with less than 10 employees); otherwise $10 each

Tires (Bicycles)

$1.50

Tires (up to 16-inch)

$3

Tires with rim

$6

Larger tires

Call for fees

Trash

$3.00/bag (32-gallon or smaller) for up to 3 bags.

More than 3 bags – $15.00 minimum charge for up to 100 lbs.

$145.00 per ton (pro-rated) for more than 100 lbs.

VCRs*

$5 each

Yard Waste (brush and leaves)

$100 per ton




$10 minimum charge
Download a copy of WSWMD Disposal Fees.
We have a Swap Shop on site where items can be brought for swap – either passed on or picked up to bring home. For more details, check out the Swap Shop link on the Main Menu to your left. There is no charge to drop items off to the Swap Shop.  DROP OFF is Saturday only!  For more information or to reach a swap volunteer, please email them at swapshop@windhamsolidwaste.org.
Access stickers:
Access stickers are valid for one year beginning July 1st, through June 30th of each year. The sticker lets you access the facility for all of your recycling and solid waste needs. They cost $35.00 each (plus the $1.00 service fee) and can be purchased at the scalehouse when you bring trash/recycling. You may bring your sticker with you when you come to WSWMD. It does not have to be affixed to your vehicle. No prorated stickers will be sold.

 We also sell a day pass for $10.00 (plus the $1.00 service fee) – it is good for one day.
Note: The following hazardous waste products are collected daily at the Transfer Station. 
Used motor oil (non-contaminated, fresh from the engine, no gas or water or antifreeze mixed in)

Latex paint, oil-based paint, shellacs, lacquers, varnishes, enamels, stains, urethanes, aerosols, waterproofing, metal coatings, rust preventatives, and field and lawn paints


Rechargeable batteries and lead-acid batteries

Button cell batteries (NiCd, Zinc, etc.), alkaline batteries


Thermostats & thermometers that contain mercury

Used medical needles

Fluorescent light bulbs & ballasts

Computers, televisions, and cell phones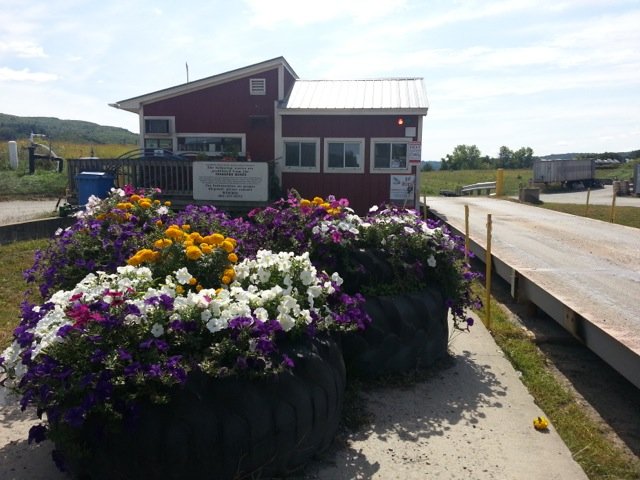 The WSWMD's Facility consists of:
A transfer station that accepts non-recyclable solid waste and construction and demolition (C&D) debris.
A recycling drop-off center for recyclables, compostable material, yard waste, used motor oil, oil filters, tires, batteries, paint, textiles, white goods (appliances), metal, computers and other electronic waste.
A free Swap Shop for reusable items – open Saturdays only. The Swap Shop is open on the 2nd Saturday of the month from Nov.- April. Go to the Swap Shop page or Email them with any questions about what you want to bring.
The large red building houses the WSWMD offices. We sell bulk compost. Click here for more information on bulk compost. We sell 30 lb. bags of compost for $5.00 at the Scalehouse. We also sell Earth Machine backyard compost bins for $50.00 and kitchen compost pails for $10.00. Click here for more information on different types of backyard compost bins that we sell.