Our Compost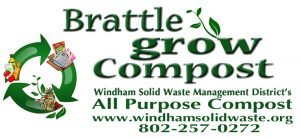 Brattlegrow Compost has many uses…
It is ideal for creating new lawns, filling in areas for lawn repairs, and for creating most gardens. It makes an excellent fertilizer/top dressing for gardens, lawns and athletic fields. Our compost has been used for erosion control and for landfill/stormwater management.
Our compost is made from carefully managed residential and commercial food scraps, leaves, wood chips and grass clippings and is available in three different
3/8 inch screened compost
1/2 inch screened compost
Compost & top soil mixes
We have 30 lb bags available at the scale house for $5.

 
For 1-10 cubic yards please contact our Brattlegrow Compost distributors for pricing and delivery.
For more information or to purchase 10 or more cubic yards call us (802) 257-0272 or contact us by email office@windhamsolidwaste.org