Backyard Compost Bins & Kitchen Counter Pails
We sell backyard compost bins and kitchen counter pails at a GREAT price!  Contact us to pick up an "Earth Machine" backyard compost bin and a "Sure-Close" kitchen counter to do your composting at home.
Do your part to turn food scraps and yard waste into nutrient rich soil for your garden.  Food and yard waste combined represent about 25% of our waste.  Composting these materials at home, can save money and keep waste out of landfills!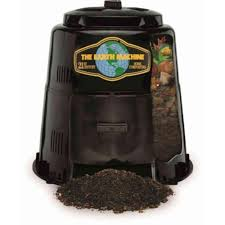 The Earth Machine Backyard Compost Bin ($50)
Dimensions: 33″ diameter by 33″ high.
Weight: 15 lbs
Volume: 10.5 cubic feet (80 Imperial gallons or 300 litres)
Twist-locking, pest-resistant lid
10 year warranty
Side ventilation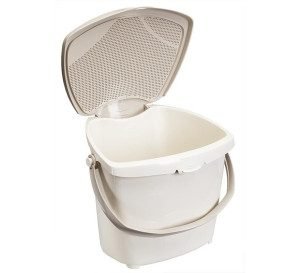 The "Sure-Close" kitchen collector ($10)
Durable, dishwasher-safe, and easy to clean
Lid opens and latches closed easily with one hand
Lid locks in open position for easier filling
Lid perforations allow venting but stop insects
Ergonomic handle and back grip for easy use
Wide opening allows easy scraping of plates
Compost bins & kitchen pails available only at the WSWMD office on Old Ferry Rd, Brattleboro, VT, Monday – Friday, 9AM – 2PM. Checks and cash accepted. Quantities limited. Get them while supplies last. If you can't make it to the office during designated sales hours, call us at 257-0272 and we can make special arrangements.
Backyard Composting Video