---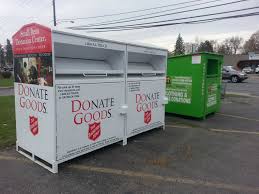 The Salvation Army boxes accept clean and dry clothing, shoes and usable textiles in the white bins which are accessible during normal business hours. Please restrict your donations to clothing, curtains, sheets, and/or footwear.  All items should be bagged and tied.  No electronics, books, toys or trash.
Bins are located to the left as you enter the gate. 
.   
Clothing, Shoes & Textiles–Resale & Thrift Shops
There are several local consignment stores in the District where you can bring clothing and other items for reuse.  Check your local community for "reuse," "thrift," "secondhand" or "consignment" shops. Click here for a partial list of local Consignment-Thrift Stores.