Clothing, Shoes & Textiles–Resale & Thrift Shops
There are several local consignment stores in the District where you can bring clothing and other items for reuse.  Check your local community for "reuse," "thrift," "secondhand" or "consignment" shops. Click here for a partial list of local Consignment-Thrift Stores.
---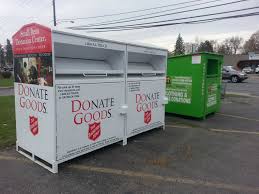 The Salvation Army boxes accept clean and dry clothing, shoes and usable textiles in the white bin which is accessible during normal business hours.  No access sticker or day pass is required to use the bins. Worn-out textiles can be put into a Planet Aid box, located throughout the district but NOT available at Windham Solid Waste.
There are several Planet Aid donation bins located throughout the District that are accessible 24 hours a day/7 days a week. Planet Aid accepts clothing, fabric and textiles that are clean, dry, in good condition or also imperfect and worn bare in spots.  Please visit Planet Aid for more information on locations and accepted items.