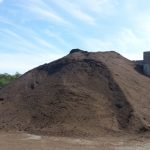 Our Own Brattlegrow Compost!   
(Available Spring thru Fall)

Brattlegrow Compost has many uses. It is ideal for creating new lawns, filling and doing lawn repairs and for creating most gardens. It is excellent for fertilizing/top dressing gardens, lawns and athletic fields.  Our compost has been used for erosion control and for landfill & storm water management.
The compost is made from carefully managed residential and commercial food scraps, leaves, wood chips and grass clippings and processed here at WSWMD.  A compost analysis report is always available here or call the office, Monday-Friday 9am-3pm.
WSWMD Compost Products:
3/8 inch screened compost
1/2 inch screened compost
Compost & soil mixes – upon request, contact us and we can blend a mixture of compost and loam
For 1-10 cubic yards (and for smaller amounts) please contact these Brattlegrow Compost distributors for pricing and delivery:
Bloom Enterprises LLC, Townshend, VT 802-380-9458, Contact: Tom Bloom.
Boyd Family Farm, Wilmington, VT 802-464-5618, Email: boydfarm@sover.net    (Delivery available)
Brown Enterprises, S. Londonderry, VT, Email: steve@brownenterprises.net
D & E Tree Company, Inc., Guilford, VT, 802-257-5669, Email: detree@myfairpoint.net   (Blower truck & delivery available)
Maple Hill Nursery, Swanzey, NH, (603) 357-2555, Email: scotmaplehill@yahoo.com    (Delivery available)
Renaud Tree Care, Inc., Dummerston, VT, 802-257-0567, Email: gottrees@sover.net    (Delivery available)
For more information or to purchase 10 or more cubic yards call (802) 257-0272 or contact us.  
Want to try it out for your home garden??  We sell 30lb bags at the scale house for just $5!